Junction Eighteen have started to replace its old Crown fleet with new Hyster Forklift Trucks from South West Forklifts.
South West Forklifts Ever Growing Contract Hire Fleet goes from strength to strength with the addition of new Hyster forklifts.
Mr Spender of Junction Eighteen said:
"…we are now pleased to add reliability to our already fast and effective service supplied by South West and are particularly pleased with the additional safety features built in to the new machines manufactured by Hyster in the United Kingdom."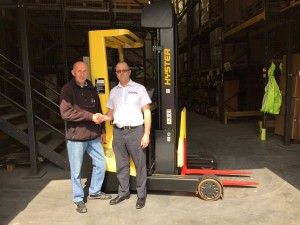 Pictured right, Cliff Whithall of South West Forklifts and Mr Chris Spender (Warehouse & Transport manager) of Junction Eighteen in Warminster, taking delivery of his brand new Hyster reach truck. This is the second contract hire truck delivered to Junction Eighteen in the last Month.